Dutch first / English below
Het is heel leuk om een mooie, genezen piercing te hebben, maar wat doe je als je piercing ontsteekt? Hier lees je 7 dingen die je moet weten om je piercing soepel en snel te laten genezen.
1. De pas gezette piercing
De huid rond je pas gezette piercing is vaak een beetje rood en/of iets dikker dan normaal en gevoelig bij het aanraken. Dit hoort erbij en hier kan en hoef je niets aan te doen.
2. Piercing snel en goed genezen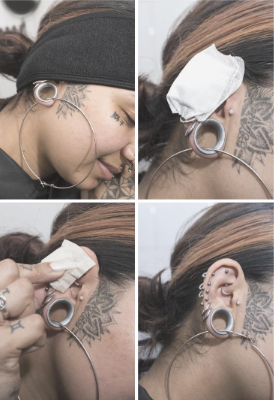 Om je piercing snel en goed te laten genezen, is het nodig dat je lichamelijke hygiëne in orde is. Het gebied om de piercing heen moet dagelijks goed schoongemaakt worden. Het is belangrijk dat tijdens het douchen alle zeepresten en shampoo worden verwijderd om irritaties en ontstekingen te voorkomen.
3. Onbereikbare plekken schoonmaken
Om onbereikbare plekken schoon te maken is het handig om je piercing 15 minuten te baden in een zeezoutoplossing. We raden je aan om een gaasje in de AphraHeals-oplossing te dompelen en dat natte gaasje op de piercing te plaatsen. Je kunt dit niet vaak genoeg doen.
Wel is het belangrijk om daarna je piercing goed af te drogen. Als het gebied langer nat blijft kan dit ook tot ontstekingen leiden, omdat bacteriën zich graag verzamelen op natte plekken. Uiteraard helpt zwemmen in een schone zee ook!
4. Afweersysteem
Daarnaast is het zeer belangrijk dat je afweersysteem goed werkt en daar kan je voor zorgen door:
◦ goed en genoeg te slapen
◦ stress te beperken
◦ gezond en gevarieerd eten en drinken
5. Niet aan je piercing zitten
Het is erg belangrijk de piercing met rust te laten. Kom er zo min mogelijk aan. Oefen geen druk uit op de piercing en ga er ook niet op slapen.
6. Vakkundige piercer
Alle bovenstaande punten werken mits de piercing de juiste maat en vorm heeft. Daarom is het belangrijk om een piercing te laten zetten door een vakkundige piercer in een professionele studio.
7. Geschikte materialen
Tot slot is het van groot belang dat je piercing van het juiste materiaal gemaakt is. De juiste materialen voor een piercing zijn titanium, chirurgische staal 316L, massief goud en alle andere hypo-allergene en hoog gepolijste materialen.
Als je deze adviezen opvolgt tijdens het genezingsproces van je piercing beperk je de kans op ontstekingen. Als je piercing, na het toepassen van al deze tips, nog steeds gevoelig is, raden we een speciaal middel aan: AphraHeals.
Dit middel gebruiken wij al 10 jaar en het werkt. Het wordt niet voor niets 'de ontstekingskiller' genoemd! Vaak geneest een ontstoken piercing na een dag met een AphraHeals-behandeling. De zwelling verdwijnt, er komt geen pus meer uit de wond en de kleur rondom de piercing zal weer dezelfde kleur als de rest van je huid krijgen. Wil je de kracht van AphraHeals zelf ervaren?
AphraHeals bestellen
De meest gestelde vragen over AphraHeals
English:
It is great to have a beautiful, healed piercing, but what to do when your piercing ignites? Here you read 7 things you need to know to make your piercing heal smoothly and quickly.
1. The newly placed piercing
The skin around your newly created piercing is often a bit red and/or a bit thicker than normal and sensitive to the touch. This is part of the process and you cannot and do not have to do anything about it.
2. How to heal your piercing quickly and properly
In order for your piercing to heal quickly and properly, it is necessary that your physical hygiene is okay. The area around the piercing should be thoroughly cleaned daily. It is important that all soap residue and shampoo are removed while showering to avoid irritation and inflammation.
3. Clean inaccessible places
To clean inaccessible areas, it is useful to bathe your piercing in a sea salt solution for 15 minutes. We recommend that you dip a piece of gauze in the AphraHeals solution and place that wet gauze over the piercing. You cannot do this often enough.
It is important to dry your piercing well afterwards. Leaving the area wet for longer can also lead to inflammation, as bacteria tend to grow in wet areas. Of course swimming in a clean sea also helps!
4. Immune system
In addition, it is very important that your immune system works properly and you can ensure that by:
◦ good and enough sleep
◦ limit stress
◦ healthy and varied food and drink
5. Don't touch your piercing
It is very important to leave the piercing alone. Touch as little as possible. Do not put pressure on the piercing or sleep on it.
6. Professional piercer
All of the above will work as long as the piercing is the right size and shape. That is why it is important to have a piercing done by a professional piercer in a professional studio.
7. Suitable materials
Finally, it is very important that your piercing is made of the right material. The correct materials for a piercing are titanium, surgical steel 316L, solid gold and all other hypo-allergenic and highly polished materials.
If you follow these advice during the healing process of your piercing, you will reduce the risk of inflammation. If, after applying all these tips, your piercing is still sensitive, we recommend a special solution: AphraHeals.
We have been using this for 10 years and it works. Therefore it's called "the inflammation killer"! An infected piercing often heals after a day with an AphraHeals treatment. The swelling will disappear, there will be no more pus from the wound and the color around the piercing will return to the same color as the rest of your skin. Do you want to experience the power of AphraHeals for yourself?
Order AphraHeals
Frequently asked questions about AphraHeals